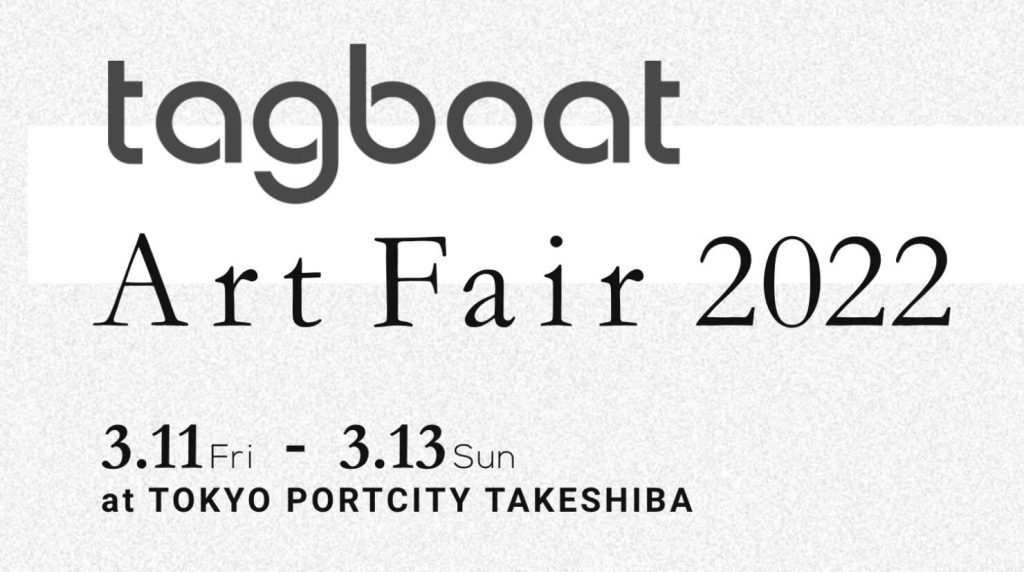 Art Fair "TAGBOAT ART FAIR 2022" (Tokyo) Mar 11-Mar 13, 2022
I am going to participate the group show below:
Exhibition name: TAGBOAT ART FAIR 2022
Date: Friday, March 11, 2022 16: 00-19: 00 Preview
* Anyone with an invitation or who purchased a ticket on the day can enter.
Saturday, March 12, 2022 11: 00-19: 00 Public Viewing
Sunday, March 13, 2022 11: 00-17: 00 Public Viewing
span>
Admission fee: 1,000 JPY (free for students)
Venue: Tokyo Portcity Takeshiba Tokyo Metropolitan Industrial Trade Center Hamamatsuchokan 4F, 5F
Address: 〒105-7501 1-7-1 Kaigan, Minato-ku, Tokyo Google Map
The following is an outline of this art fair.
The tag boat art fair started last year and will be held for the second time this year. This time, the venue will be doubled and will be held on the 2nd floor (3,060㎡) on the 4th and 5th floors of Portcity Takeshiba. It will be held at the same time as Art Fair Tokyo, and I would like everyone to see it as one of the two major art fairs in Japan.

The biggest feature of the Tagboat art fair is that it is a solo exhibition of 111 artists. In order to fully experience the world view expressed by the artists, we are particular about taking the form of individual exhibitions by each artist, rather than a group exhibition like a normal art fair. All works are scheduled to be sold online at the same time, so even those who cannot actually come to the venue can purchase them.

Approximately 2,000 works by the 111 artists selected as exhibitors are gathered together, and the art fair where each can be seen as a solo exhibition is the only one in the world. Please do not miss it.
BENTO series, ONE BITE CHALLENGE series, ONE BITE CHALLENGE AFTER CORONAVIRUS (COVID-19) series and new series "Edible Flowers" will be exhibited. These will be 11 art works in total.
The artist himself will return from the Netherlands temporarily and will be resident at the venue. Thank you for your cooperation.
p>
Contemporary artist / Web Developer (CEO at SHINTAKU LLC) based in the Netherlands. I've learned at an Art College and Culinary Institute. I attempt to connect ART and FOOD.